W.J. Siemens Farming Co. Ltd.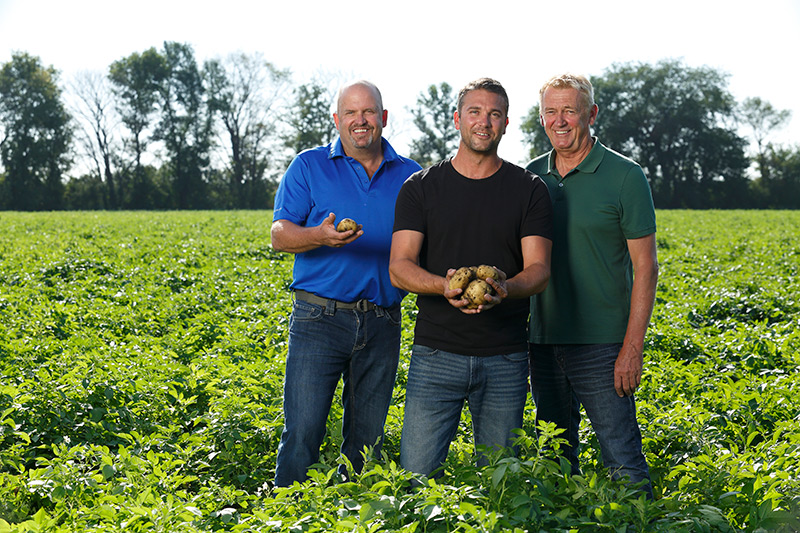 Four Generations and Still Growing Strong!

By Jennifer McFee
After months of toiling out in the field, perhaps there's no sweeter reward than the first taste of your homegrown yield.
For the family behind W.J. Siemens Farming Co. Ltd., all their hard work is well worth the satisfaction of taking that initial bite of their farm-fresh potatoes that crop up each summer.
"One of life's joys is that early potato," says co-manager Paul McDonald. "In July, it's a great feeling to go in there and dig some of those small little potatoes. They're very tasty."
Now that the family farm is in its fourth generation, that distinct delight has been savoured throughout the decades. In 1959, McDonald's father-in-law, Bill Siemens bought 80 acres of farmland from his own father in the Winkler area.
Over the years, his daughters Kelly and Bev became involved in the farm, which has now quadrupled with hubs located near Winkler, Rosetown, Portage la Prairie and MacGregor. Today, the sisters co-own the farm, which is managed by Kelly's husband Paul McDonald and Bev's husband Ray Friesen.
The fourth generation has also dug into the endeavour with involvement from Friesens' son Jacy and son-in-law Matt Friesen, as well as McDonalds' daughter Ravae. Together, they supply Peak of the Market Ltd. with a variety of red and yellow potatoes, while also growing some Russet, Gold Rush and Norkotah varieties.
For the family of farmers, they've cultivated a positive relationship with Peak of the Market Ltd., a Grower-owned vegetable supplier.
"It works very well for us. We give them a good quality product to sell and they do the marketing of our crop," McDonald says. "They've got the market out west and east, and quite a bit goes south into the U.S."
In addition to their potato crops, the farming family is busy growing beans, corn, soybeans, wheat and other cereal crops.
"It's a good life. There are lots of opportunities," McDonald says. "We have good people working for us, which really helps. It's a lot easier to manage the farm when you've got good employees. A lot of them have been around for a long time, and we really need them and appreciate them."
There's no shortage of work to be done, since they've diversified in recent years by getting involved in the trucking industry.
But for the folks behind W.J. Siemens Farming, the main hurdle isn't the hard work — it's the often-extreme weather conditions that can whip across the Manitoba prairies.
"The weather has been a big challenge for us for the last few years. Last year, was one of our wettest years on record in the Rosetown area south of Winkler," McDonald says. "We're fortunate because our operation is spread out so that we don't have all our crop in one area. That helps us a lot. It's hard work but we enjoy what we do."