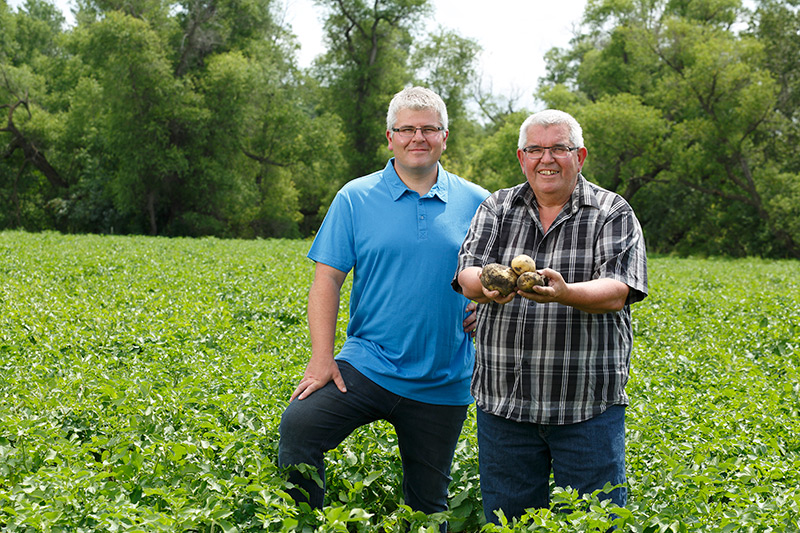 Tasty Taters at Schmidt Farms
By Jennifer McFee
At Schmidt Farms, generations of the family have grown taters since they were tots.
Juston Schmidt is a third-generation potato-Grower who grew up on the farm where his grandfather once worked the land. Located near Winkler, they grow fresh varieties of potatoes for Peak of the Market Ltd. plus others for processing by McCain Foods.
"Potato farming is basically all I've ever known. I grew up on the farm and still live here. It's very interesting to go through the challenges. Every year, is a new challenge and every year is a new reward," Juston says.
"The main thing that sets us apart from most farms in this area is that we only grow potatoes. We specialize in potatoes. That's our only source of income and it's the only thing we do."
Last year, the Schmidts grew nine different varieties and the selection changes year after year.
"We're always trying to find better varieties so that's where we spread out a bit. But as much as we're always trying to find better ones, we still concentrate on the proven ones. The reason why they're the proven varieties is because they're good," Schmidt says.
"The yellow-fleshed potatoes are our favourites for eating and growing. We fertilize them and water them but they seem to grow very well on their own. They yield better and look nice."
As Juston sees his own young children begin to take interest in the farm, he reflects on the progression of the industry.
"Things have changed," he says. "Every part of the industry is geared towards safety now – food safety and worker safety."
Grounded in gratitude, this farming family also appreciates the opportunity to provide potatoes to Peak of the Market Ltd.
"I think that is a very nice setup we have here in Manitoba with Peak of the Market," Juston says. "We work together very well . It's a really good operation that they run and we're happy to be one of the suppliers for their potatoes."