S.B. Vegetable Growers Ltd.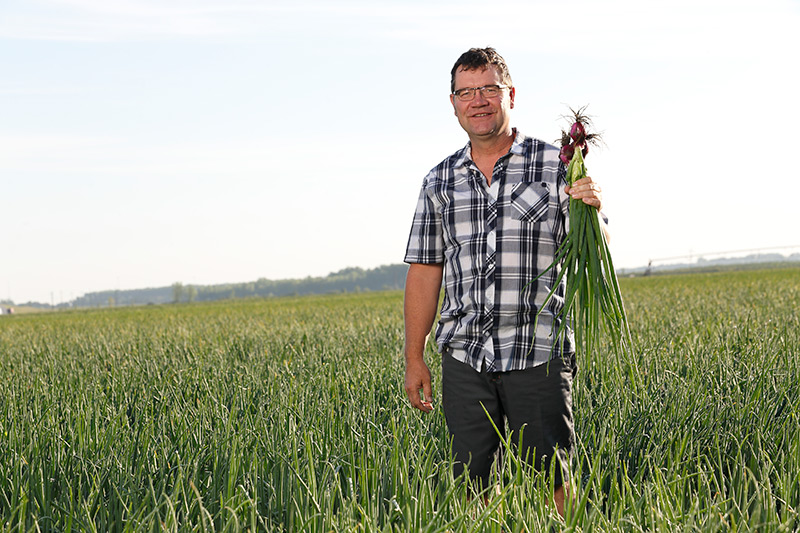 The Freedom of Farming

By Jennifer McFee
At S.B. Vegetable Growers, life on the farm is more than just a job – it's a way of life.
For Idzerd Boersma, his love of farming took root in the Netherlands where he grew up on his father's potato and onion farm.
In 1982, 14-year-old Idzerd moved to Canada with his parents and sister. The family bought a farm near Portage la Prairie where they grew vegetables for Campbell's Soup and cooking onions for Peak of the Market Ltd.
They reorganized the farm over the next few years, growing only potatoes for McCain Foods along with cooking onions, grains and oil seeds. When Idzerd turned 18, he began farming full time and slowly started the process to take over the farm.
In 2002, an opportunity sprouted up for Idzerd and his wife Dori to buy S.B. Vegetable Growers themselves. Today, the couple continues to grow potatoes for McCain Foods as well as yellow and red cooking onions for Peak of the Market Ltd.
For Idzerd, the joy of farming stems from the sense of independence that comes from working his own land.
"You make your own decisions. You get up daily and you're at your livelihood and your place. You don't have to punch a clock or go somewhere else to work. It's a good business," he says. "It's freedom. That's what it is."
There aren't many differences between farming in Manitoba and the Netherlands, he adds, except when it comes to the weather.
"It's tougher in Holland because there's always so much rain. You can get rain for three weeks in August, so it's always a fight to get your crop out," he says. "Here, the weather conditions are severe, but you know when winter is coming so you gear towards it."
But the success of the operation also depends on dedicated and dependable workers.
"We could not accomplish the work we do without our amazing team of employees who I work alongside every day, all year round," he says. "Paul Van Aert, my friend and manager, has been with us for 25 years."
And for a life-long farmer like Idzerd, there is no better way to spend his days.
"I don't look at farming as a job but rather as a way of life," he says.
"It certainly helps that I love farming, and we commit to growing the best quality produce we are able to."