Haskett Growers (2014) Ltd.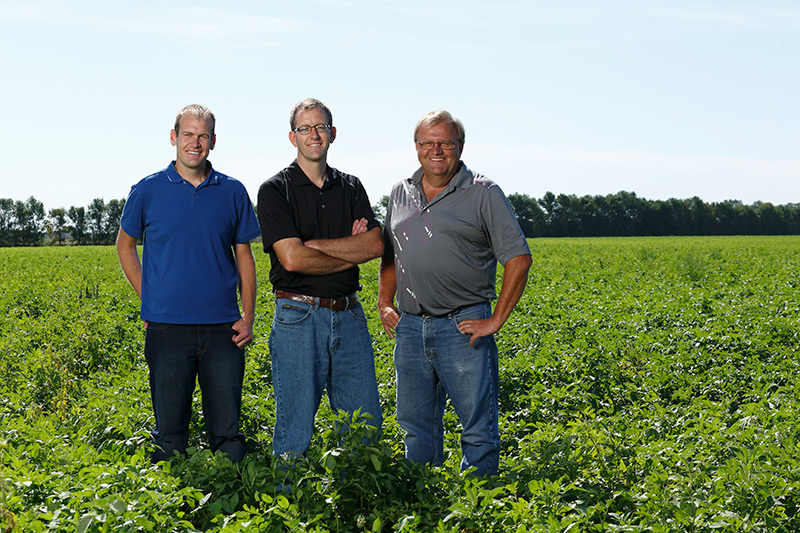 A Father's Legacy

By J.H. Moncrieff
Haskett Growers, a fourth-generation family farm south of Winkler, grows potatoes for Peak of the Market Ltd., Old Dutch, McCains and Simplot.
So not only are your fresh potatoes from Manitoba, but those potato chips you just snacked on were probably grown here as well.
The 3000-acre potato farm was the legacy of C.E. Thiessen, who wanted to ensure that the family business would have room for everyone who wanted to farm.
"We all seemed to have a bit of farming passion in our blood, and there was no way he could give everybody the opportunity to farm without specialty crops," says Larry Thiessen, who now runs the farm with his brother Harold, his son Justin, and four nephews, Marlin, Gawain, Lyndon and Dave. "My dad was looking for something that would create year-round employment for his boys. I look back at what he did for us and it's absolutely amazing."
Thiessen hopes that his son and nephews will be able to do the same for their children.
"I grew up with five brothers, and my dad gave us all the opportunity to farm," he says. "It's been a good life for myself and my brother. Our wish is to get my son and nephews on solid enough ground so that their children will have the same opportunities."
The family purchased a potato-seed farm in 1997, and a 1000-acre French-fry farm in Treherne in 2011. Along with three other Growers, they also own and operate Heartland Fresh Pak, which washes, grades, and packages produce year-round. The Thiessens also grow soybeans, dry beans, corn, canola and wheat.
"Heartland Fresh Pak is our wintertime employment. We wash and grade five days a week, sometimes even six," says Thiessen. "We've really focused on expanding our operations. If you're standing still, you're going backwards."
Thiessen says the secret to working well with family is learning to pick your battles.
"Eventually you have to suck it up and move along, and with brothers, it's a little easier to work through your disagreements. You might not chat with each other for a week or two," he adds. "We communicate a lot more than we used to, and that's key. My father taught us pretty well."