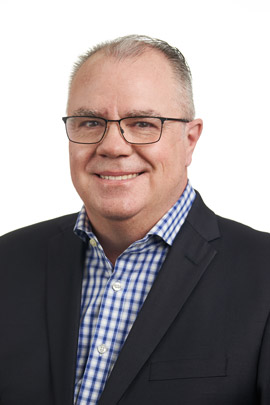 Kris Vincent
Sales Manager
(204) 594-1422
A Passion for Food
With 19 years of experience in the food industry, it made sense for Kris Vincent to join Peak of the Market Ltd. as the sales manager.
"I've always been passionate about food," Kris said.
Kris has worked around food since he was 15 years old. At first, he worked in restaurants. He then moved on to organizations like Mondo Foods Company Ltd. and Harlan Fairbanks, selling food-related products.
At the age of 30, he decided to take sales and marketing courses at Red River College Polytechnic. After graduating, he worked in sales for the courier company DHL Express.
Throughout his time in the transportation world, he continued his passion for food by cooking at home for his family. To Kris, cooking is a relaxation tool.
"I like to cook, so coming back to the food industry—for me—was a no-brainer," Kris said. "I've always really enjoyed it."
After 11 years in the courier industry, Kris returned to the food industry as the sales manager at Peak.
"Oh, it's fun," he said. "It's certainly a different environment. "People think it's a piece of cake selling a bag of potatoes but it's not," he said.
Before joining Peak of the Market Ltd., Kris thought there were only four kinds of potatoes: red, white, yellow, and russet. He then learned that there are over 2,000 potato varieties.
"Vegetables are a different ball of wax," he said.
Kris said the fast-paced produce industry can be tough at times, but he doesn't shy away from challenges.
"The product is constantly moving here, constantly going," he said. "You learn a little bit more everyday."
When he isn't getting vegetables up on shelves for people to enjoy, Kris likes spending time at home with his family and volunteering at his local community centre.