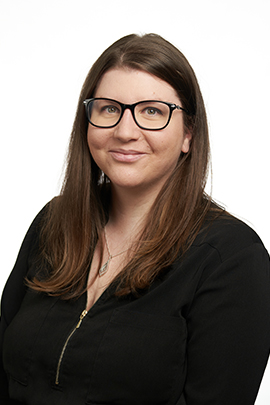 Danielle Champagne
Sales Representative
(204) 594-1415
A Penchant for Caring
On top of ensuring sales are adequate, Danielle Champagne's goal is to make sure everyone is well taken care of, from customers to Growers. 
"In my role as a sales representative, I am the frontline of Peak of the Market," she said. 
Danielle began her career at Peak of the Market Ltd. in October 2014. After seven years working as an accounts receivable specialist, she joined the sales team. She said having experience in working with Peak has helped her transition smoothly and efficiently into sales. 
"My experience has just been a really good one. This is the longest job that I've had," she said. "There's a lot of long-term employees here as well, so that speaks volumes of the workplace." 
Danielle attributes her success as a sales representative to her strong stress management skills and her ability to prioritize heavy workloads. 
"To be a sales rep, you have to be able to work in a fast-paced industry, because everything is high priority," she said. "Everyone has an emergency to put out and being able to juggle and prioritize those situations is crucial." 
Although it may be challenging at times, Danielle believes the work being done at Peak of the Market is meaningful. 
"The company itself, I feel, is very important in our community. And I feel like the work we do helps support not only our city, but also our province and in the States as well," she said. 
Danielle's penchant for caring for others goes beyond her work: she is also heavily involved with dog rescue. Danielle and her family have opened their home to rescue dogs who need temporary housing. 
Since 2019, they have looked after over 30 rescue dogs.  
"My house is chaos, but it's very important to me," she said. 
Danielle graduated from Robertson College with an Accounting and Payroll Administrator diploma. When she isn't working hard to get fresh produce for people to enjoy or looking after rescue dogs, she likes to travel to different countries with her partner and four kids.